Well, as promised, I am going to start blogging again. It's been quite a while since I've been on her, and many things have happened since then....
Well, the Husband and I went to New York and had an UNBELIEVABLE time! It is seriously a trip I will never forget, and I definitely left a part of my heart in Manhattan. I'm a California girl, born and raised, and I always said I would NEVER move out of So. Cal...New York definitely made me second guess that decision.
We stayed right in the middle of the city (Manhattan) @ the Crown Plaza Hotel (gorgeous, good pick Justin!!!). We decided to just "wing it" every day. Our lives are on pretty strict schedules (Ethan's therapy, Ally's school, work, etc...) that we decided to write out things we wanted to do, but not make any plans...just get up every day and start a new adventure.
One of our first adventures was getting a call from the Ed Sullivan Theater letting us know they picked us to be in the audience for the following day... So rad to see a live taping of a show. Jonah Hill (Superbad, Knocked Up, Funny People) and Kelly Clarkson (American Idol Season 1 winner) were the guests. We had our family Tivo it, and you can see us in the audience... too funny!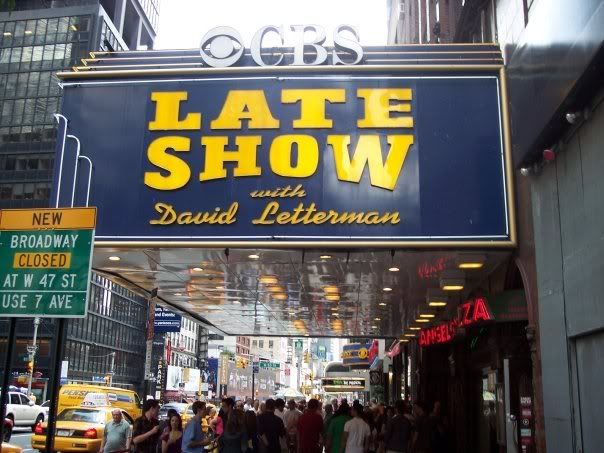 We totally did the whole "tourist" thing and saw EVERYTHING we wanted to see... We ended up going to MoMA (museum of modern art) and saw Warhol's original "Marilyn" and my ABSOLUTE fav- "Starry Night" by Van Gogh. The Natural History Museum (same one they filmed "Night at the Museum"), The Met- which was BY FAR the most interesting and beautifully set up. We shopped on 5th Ave (the 2 story Juicy Couture was AMAZING!), and went to St. Patrick's Cathedral, which has the most beautiful and breathtaking architecture I've ever seen! One of our favorite things was when we traveled down to Battery Park and caught the ferry to the Statue of Liberty and Ellis Island. We actually found quite a few of my ancestors (including my great-great grandfather) that came over from Italy, and Justin's Great Grandfather that came over from Slovakia.
St. Pat's...
Inside St Pat's
30 Rockefeller Center
Bethesda Fountain--Central Park
John Lennon Memorial, right outside of "Strawberry Field"
My goofy-ass husband @ the Natural History Museum
Statue of Liberty....obviously...
,br>
Ellis Island... Justin told me to pretend to wait in line like they did in that room when trying to become a citizen...
Starry Night...breath taking...
Marilyn..
The night we went to see "Phantom of the Opera"
There were tons more pics, but none of which will do the trip, or the city for that matter, justice. I cannot wait till we go back, it's one of the most amazing places I've ever been.
Till next time, You know you love me...
xoxo
Cupcake Queen